---
{{item.currency}}
{{pricing}}
---
---
{{item.currency}}
{{pricing}}
{{item.currency}} {{item.normalPrice}}
---
{{item.currency}} {{pricing}} - Out of Stock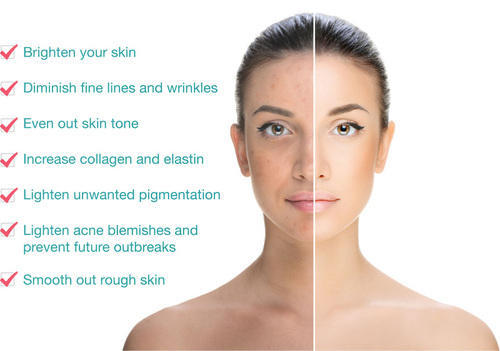 Chemical Peels
Retinol Peel 45 min R475
This peel contains a high percentage of retinol that has great anti-ageing properties and will also help to improve the overall texture and tone of the skin.
It will reduce the appearance of acne scars/damage and promote a smoother more even complexion.
It will aslo lighten pigmentation and dark spots on the skin
The peel stays on the skin for 4-8 hours and is then washed off. The skin should start peeling within 2-3 days afterwards. The peeling will last 7-10 days.
Please note: home care is essential. The following products will have to used:
Aesthet Recovery Serum and DNA SPF 30/50
OR
Aesthet Post Treatment Pack.
Keratopeel 30 min R435
The new gentle, non-acid alternative to chemical peels.It is a natural way to a mild biological peel to increase cell renewal without any skin irritation.
Xpert Peel 30 min R475
Recommended for hyper-pigmentation, acne prone skin, melasma sun damaged skin, post acne scarring, deep lines and wrinkles, rough leathery skin. No downtime needed.
Radiance Peel 45 min R425
This highly effective oil-soluble beta hydroxy acid peel offers both acidic and mechanical exfoliation, making it the ultimate treatment for deeply cleansed and brightened skin. This treatment is ideal for oily skin, congested skin, blackheads, mild acne skin, environmentally damaged skin, smoker's skin and for men suffering from ingrown hair.
Anti-Pigmentation Treatment Package: R 2150
1 x Dermaplane Serum Infusion Treatment
1 x MN Treatment
1 x Chemical Peel
1 x 30ml Essel Aesthet Skin Tone Corrector Serum
What are Chemical Peels?
A chemical peel uses a chemical solution to remove layers of skin, revealing the more youthful skin underneath. Different strength peels can be used depending on the skin concern.
Ideally peels should be performed as a 3-6 treatment course for best results.
Who can do it?
It is ideal for men and women who are interested in improving the health and appearance of their skin.
Conditions/ problems that cannot be treated
• Active inflammatory condition including active acne, cold sores etc.
• Chronic skin disorders
• Blood clotting disorders
• Moles or warts
• Sever Solar Keratosis
• Poor healing conditions such as diabetics
What concerns can be addressed?
Dull looking skin
Fine lines and wrinkles
Pigmentation
Oily skin
Mild acne
Scarring
Dry/dehydrated skin
What is the downtime?
Depending on the strength of the peel, you may experience redness, flaking skin and tenderness for 8 to 12 hours.
When can I see results?
Depending on how serious the skin concern is that are treated, results can be seen in as little as 10 days.